---
WOODS
(Warehouse On-line Order Data System)
Go to QuickReckoning.Com Web Page for More Simulation Products
---
Are you a distributor of wholesale picture frames and supplies?
Need a Point of Sale and Accounts Receivable System that interfaces with full feature accounting software such as Quicken?
Want one that is easy and fast to use, easy to install and maintain, and full featured?
Want to allow your customers to buy via the internet?
WOODS is designed specifically for you.

(Fig 1 - A single display with all menu items - Graphics Based/Point and Click or Keyboard driven)
Many systems offered today don't have the flexibility to use the most revolutionary sales tool ever known - the internet. In fact, some of these programs are 15 years old!
WOODS is new and takes advantage of modern platforms and infrastructures and has internet capabilities built in! All you have to do is set up your WOODS Warehouse server, connect it to the internet and your clients can order using their PCs and the web!
Not interested in internet sales right now? Simply set it up on your local area network. Later on, you can expand your business via the web with no additional software required.
QuickReckoning.Com, is pleased to announce its latest software system designed especially for professionals in the Moulding Industry! When compared to competitive systems, it is faster and easier to use, less expensive, and more modular.
Look below for a sampling of user screens with feature descriptions. Then, contact QuickReckoning.Com, so that we may discuss your individual system requirements and the possibility of upgrading your present system with WOODS!
WOODS also integrates with Quicken(tm) software to provide a customized accounting platform for your business. With Quicken, you can order inventory, then quickly export that inventory into WOODS. From WOODS, all invoicing and accounts receivable are exported back to Quicken and into your banking register. WOODS will also export your inventory to popular applications such as FullCalc and others.
Point of Sale Feature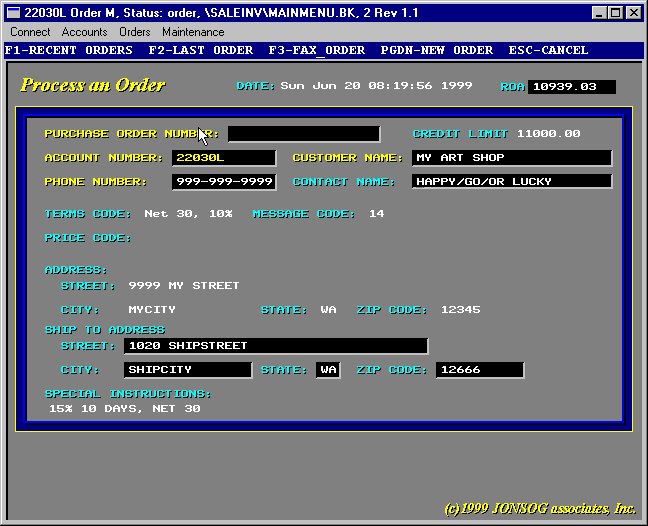 (Fig 2 - Begin each order with a check of Customer info, including balance and Credit Limit)
Taking an order is quick and easy, typically requiring only one hand, because the Numeric Keypad is used for input. The customer record is accessed by either Account Number, Customer Name, or Telephone Number. Their viability is quickly displayed (Is the account up to date?).
The system is also configurable with automatic pop-up messages. This makes it easy to keep delinquent customers from ordering. If the current account balance exceeds the Credit Limit, the balance field ("ROA" - Remaining on Account) turns RED in color.
After viewing the customer record, F1 will produce a list of outstanding orders, or F2 will quickly access this customer's last order for update.
Press the PAGE DOWN (once again - part of the numeric keypad) and start a new order!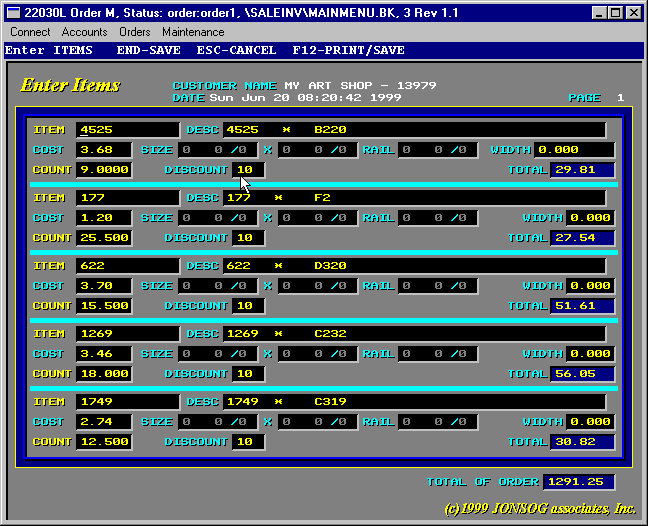 (Fig 3 - The order screen allows for this list of 5 items per page/200 items per order)
Order entry is intuitive and includes special codes to instruct WOODS to calculate CHOPS or RAILS (+ or / characters respectively). These codes are also part of the numeric keypad so they are convenient and orders are taken swiftly.
Pressing the END key saves the order and allows it to be printed. Ready to be filled!
WOODS is simple to learn. Users can start processing orders with just a few minutes of training.
Accounts Receivable Feature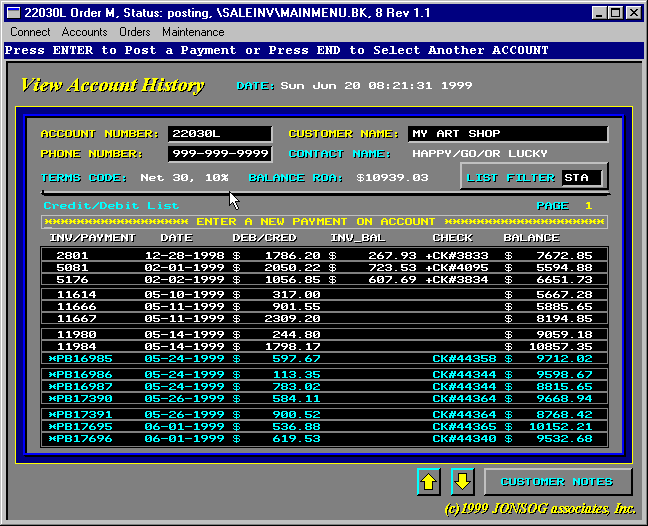 (Fig 4 - All outstanding invoices and latest payment information on an easy to see display)
Quickly call up the customer's record! Note the "+" characters within the "CHECK" column. These indicate partial invoice payments. To view all payments made for a single invoice, simply click anywhere on this white invoice line (see Fig. 5). This report can then be faxed, e-mailed, or otherwise delivered to the customer.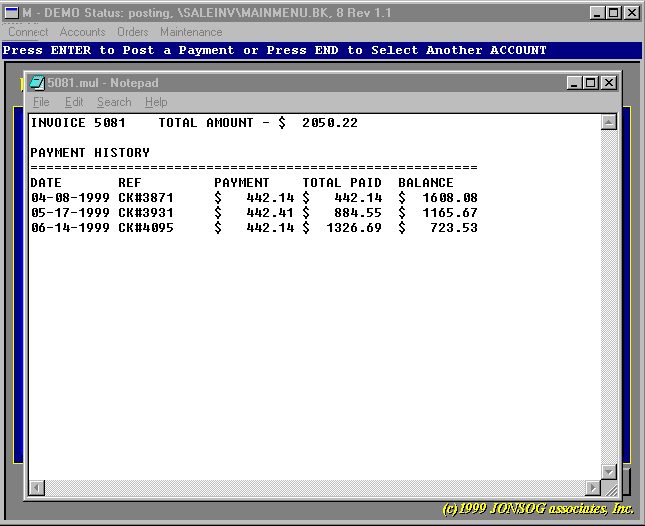 (Fig 5 - Look up an individual register summary for any invoice payment history)
Matching customer payments with invoices

(Fig 6 - Use "Fast" or "Slow" payment methods to quickly match checks to invoices)
Prior to applying a receivable, WOODS automatically lists outstanding or partially paid invoices for the specific account. This information (in BLUE) shows invoice number, balance, and number of days past due (negative numbers are days remaining in payment terms). Invoices are listed from oldest to newest.
To apply a payment, simply click on the invoices to be paid until you exhaust the amount. Or, use "FAST" to automatically apply the payment to invoices in order of oldest to newest. A third option is to use the "SLOW" payment feature. "SLOW" looks at all combinations of invoices which exactly match the check amount, then either pays those invoices or tells you that the customer's payment amount is imprecise. This feature saves the time formerly spent using manual methods.
Other features include TOTAL, which totals all unpaid invoices, VOID which voids a payment, CLEAR to automatically clear all matching so you can start over on this display. When satisfied simply click on END to enter the payment against the account. To access the payment again, simply click on it from the register display (shown in Fig 4).
---
Managing Remote Warehouses
Our first WOODS client, CMI Mouldings, is a major importer/distributor of mouldings as well as a storefront selling wholesale to frame shops. Headquartered in Burtonsville, Md., CMI has three warehouses in the Baltimore/Washington area. Each warehouse needed a point of sale system connected to headquarters' accounts receivable system.
While other bidders wanted to use UNIX servers and other complex hardware to connect all the warehouses via phone link to a single computer network. CMI did not want expensive leased lines connecting the warehouses and wondered why that was necessary. Other vendors would not change their third party software to accommodate the user. They stated it was too expensive, and that CMI would not receive a discount for purchasing identical software for 3 sites. Three entire license and customization fees would have been required.
Since CMI simply wanted to modem orders from two remote sites to the corporate office in Burtonsville, they chose the approach offered by QuickReckoning.Com WOODS met all of their requirements. QuickReckoning.Com accommodated CMI because we own WOODS software! CMI received licenses for all three sites for a lesser price than the other vendor's price for a single site. That's service and price competitiveness!
The graphic below was designed for CMI. It allows for "point and click" connectivity so that the accounting department in Burtonsville can retrieve orders from the Virginia and Baltimore sites.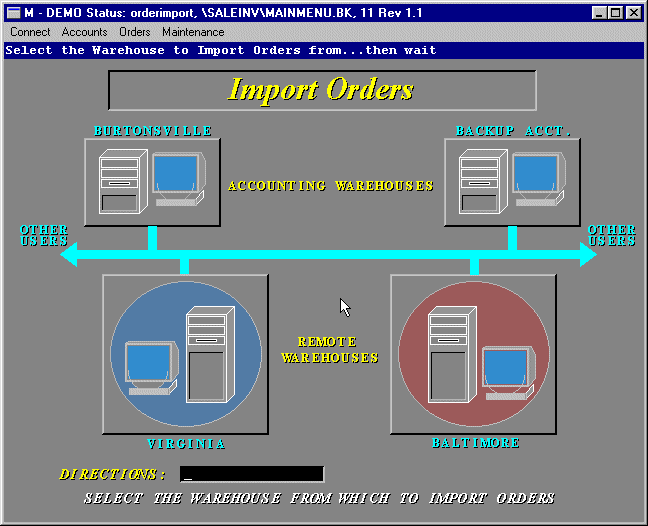 (Fig 7 - Connecting to other remote sites is quick and easy via modem)
---
Want to Sell over the Internet?

(Fig 8 - A client "logs in" to your Warehouse to place an order online via the internet)
WOODS has internet sales capability because it communicates using TCP/IP, the standard internet protocol. This is why WOODS is ready, right now, to use the internet and allow your customers to place their orders online.
Customers merely download the software from your website, then use it to connect via the internet to your WOODS Warehouse Server.
Sales are secure and your data can be accessed ONLY by customers who have the WOODS software and access codes you provide to them.
Customers get fast access and secure communications to your Warehouse order system because WOODS doesn't use internet browsers such as Netscape or Microsoft. They can review ONLY their own account and place new orders. You pull those orders off your printer as they come in.
---
Software Support for WOODS
WOODS was designed with support in mind. We are just a phone call away and can tie into your system immediately via modem when there is a question. How does your software vendor support your software now? Do you pay for travel time to and from his office? With WOODS we can provide customer software support instantly.
---
System Hardware Requirements
A WOODS order terminal is a Windows 95/98/ME standard computer on a network. For reliability we recommend using Windows 2000 or NT on your server. The Windows 2000/NT server allows remote system troubleshooting by allowing for modem tie-in using its Remote Access System software. No additional software licenses are required other than your windows operating system and WOODS.
---
How can we help YOU?
Is your current software out of date? Is outdated hardware beginning to slow you down? Does your business plan include selling via the internet now or in the future?
Let's talk and see if our WOODS product would help with your bottom line!
Prices start at $4,500 per site license including the interface to Quicken Software accounting products for management of the entire business.
WOODS' pricing is VERY competitive. Compare our price to competitors that are charging $28,000 or more for single site licenses. They also add the cost of adapting the software to your site, and force you to purchase nonstandard hardware.
Need data migration help? We can help with that too.
---
Write to QuickReckoning.Com, 1350 10th Street, West Linn, OR 97068

Contact Mike Groves Click Here for Contact Information

Last Updated on - 06/29/2014

Other Links