Completing the Instant Key Process for Credit Card Purchases
In order to use the "INSTANT KEY", YOU MUST START QuickHorse. If your subscription has expired you will see the following display and you may continue the process of subscribing.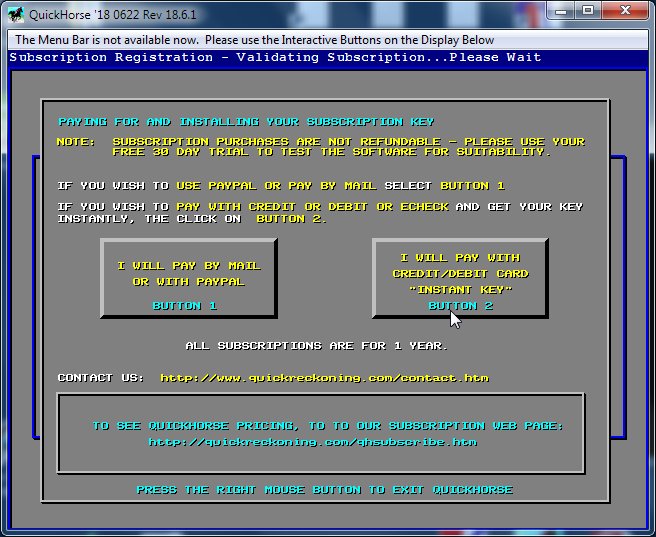 Figure QH-1 Subscribing to QuickHorse
You will see this display only if your current subscription has expired or there is a problem with your key. If you feel there is a problem with your key, contact us first before purchasing a new key. Otherwise, to purchase a 1 year subscription (there are no refunds because you have already been given a free trial) select Button 1 to pay with Paypal or by mail. Select Button 2 if you want to use a credit/debit card and get access to your subscription immediately using "Instant Key" which is described below. When you select Button 1 to use Paypal or Pay by Mail we will create your key and there may be a delay not more than 12 hours from the time you submit your payment to when we key your subscription.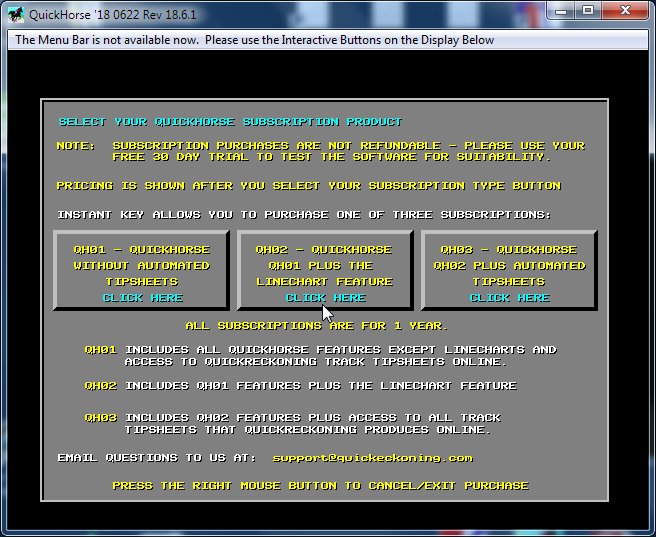 Figure QH-2 - Choosing the Subscription using Instant Key
Once you have chosen Button 2 in Figure QH-1, the options in QH-2 above will be presented to you. This menu describes the 3 subscription types for QuickHorse. By now you have been able to use all the features of QuickHorse so simply select the subscription you wish to purchase. If you have any questions about these 3 subscriptions then EXIT QuickHorse and contact us with your questions using the email address shown in QH-2. Since there are no refunds, then it is important that you understand what each subscription allows you to do. If you are sure of the subscription you wish to purchase then click either button to select that subscription. For the example below we will display what happens when you select the QH03 button.
After selecting QH03 you should be looking at the following display QH-3 and you are ready to make your payment. However you may not see this page because QuickHorse will display our online web page to allow you to continue making your payment for the subscription selected. This purchase window will overlay the QuickHorse window shown below.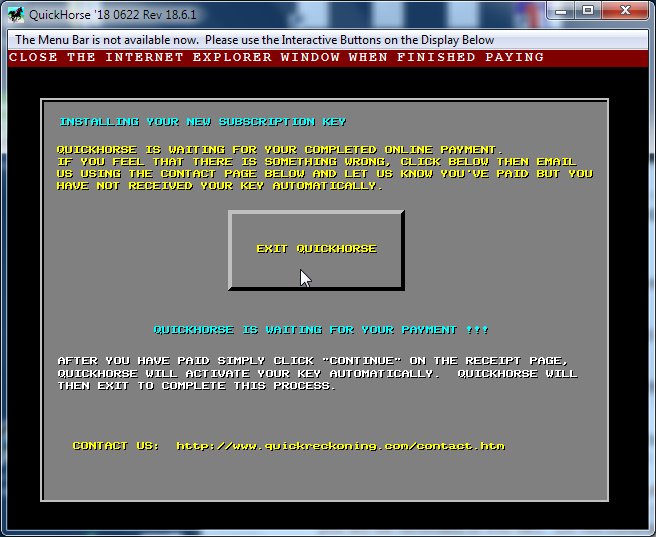 QH-3 QuickHorse waits for You to complete the payment process online
QuickHorse displays the INSTANT KEY Payment Web Page for the subscription you have chosen. In this example it is QH03.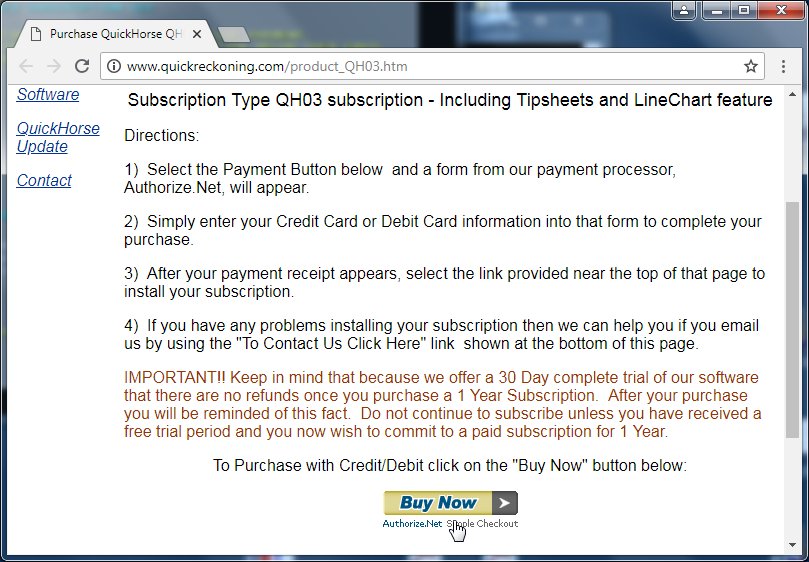 Figure QH-4 - Buy Now Button for Subscription QH03
Your web browser software should display the web page above. If not then contact us and we will help you purchase your subscription. AFTER reading the directions and the terms of this purchase (in RED) if you wish to continue simply click on the BUY NOW button. The following Authorize.Net web page will appear.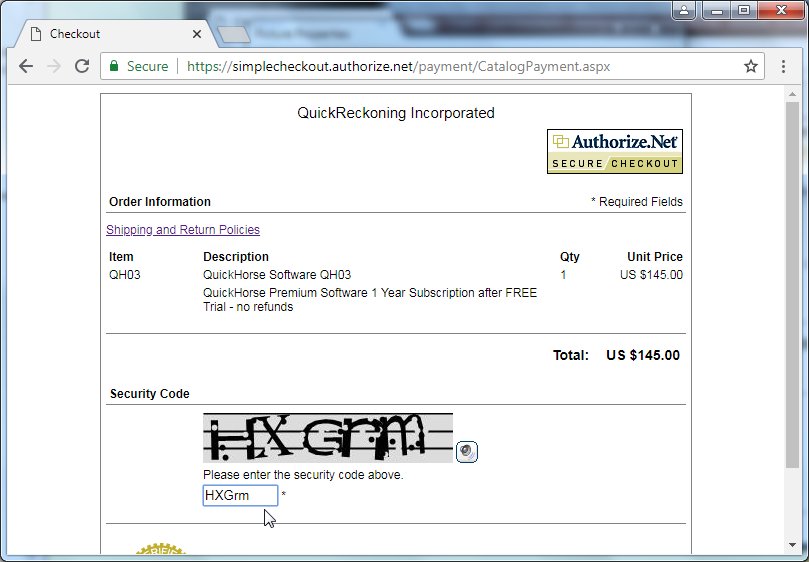 QH-5 - First Authorize.net display
Simply enter the characters shown after confirming that this is the subscription you wish to purchase for the listed amount. You HAVE NOT entered any credit card information at this point so if you continue NOTHING WILL BE CHARGED TO YOUR CREDIT CARD. After entering the characters into the box press the ENTER KEY on your keyboard to continue the Instant Key Process.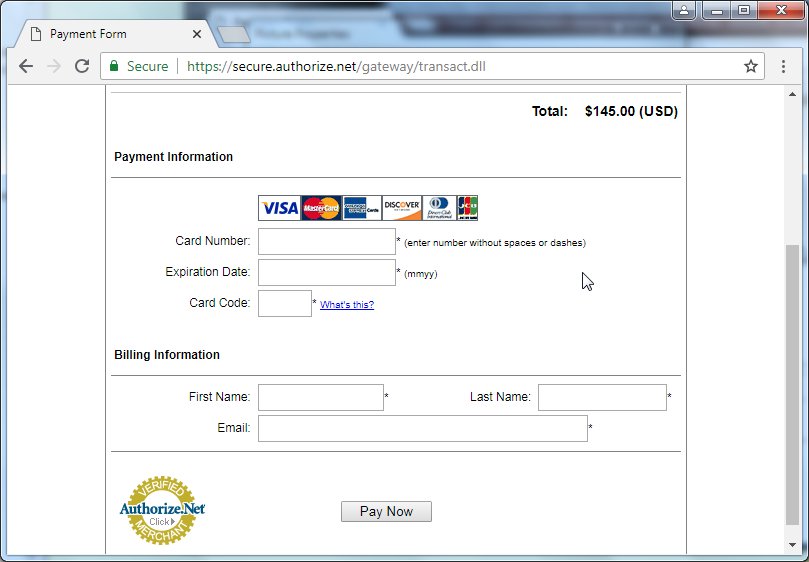 QH-6 Entering your Credit Card information
There are 6 fields to enter on this display from Authorize.net. This is a secure website and is NOT our website but instead it is the Authorize.net payment system. We do not receive your credit card information. We will receive notification that you have made payment in case your subscription key is not properly processed automatically by Instant Key. If you have decided to purchase a subscription and you understand there are no refunds, then enter your information in the 6 fields shown. Then press PAY NOW. Pressing PAY NOW will charge your credit card. Authorize.net will either give you an error display to allow you to fix the information you've provided or the following VERY IMPORTANT RECEIPT PAGE will appear (see QH-7).
QH-7 Your Receipt Page with "Click Here to Finish Installing Your Instant Key"
Remember, you started this process with QuickHorse and now you are online and you've completed your payment. You must now click on the link just under the "QuickReckoning Inc" text. That link is clearly telling you to "Click Here to Finish Installing Your Instant Key". Simply click on that link and the following web page will appear. This web page is part of our website.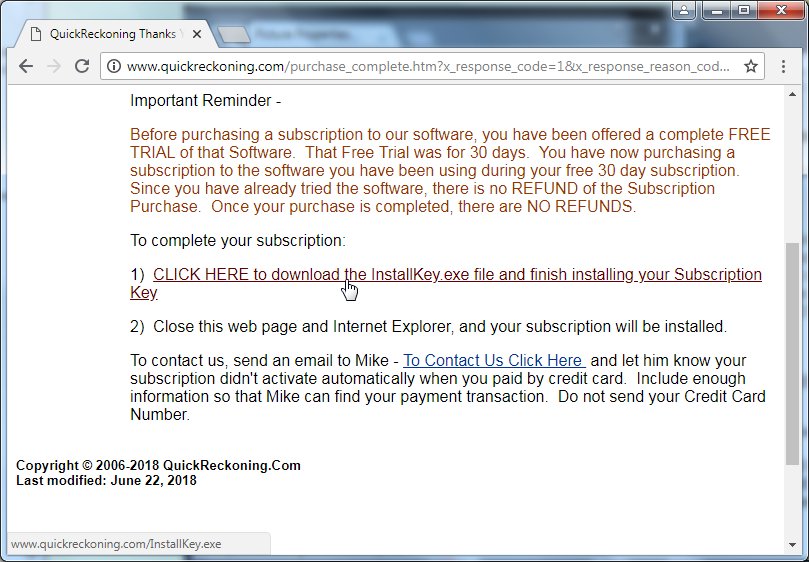 QH-8 Installing Your Subscription Key
Now that Authorize.net has processed your payment we will receive a notification of that payment and you will receive a receipt via email. However, your subscription key hasn't been created yet. To create and install your key you simply follow the directions on our web page shown above (QH-8). You are simply going to click on the line as shown above to download and open/run your key in order to install it. DO NOT worry if you do something wrong. We will have a record of your payment and will manually create your key if for some reason you do not complete this process. After clicking on this link and downloading/open/run this key successfully the following will appear on your desktop (the display you receive may depend on your internet browser. The following display was taken from Chrome.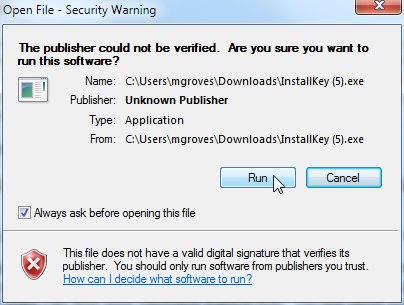 QH-9 Running the Install Key Software on Your Computer
Since QuickReckoning.com is a small company you will always receive the message that "The publisher could not be verified". The only way for our company's software to be "verified" is if we pay a fee to a company such as Microsoft so that this message doesn't appear. We will not pay this fee as it is excessive, unfair, and really doesn't protect you in any way. You probably received a similar message when you downloaded the QuickHorse trial software. To continue and install your purchased subscription key, click on the RUN button and the following popup will appear on your computer.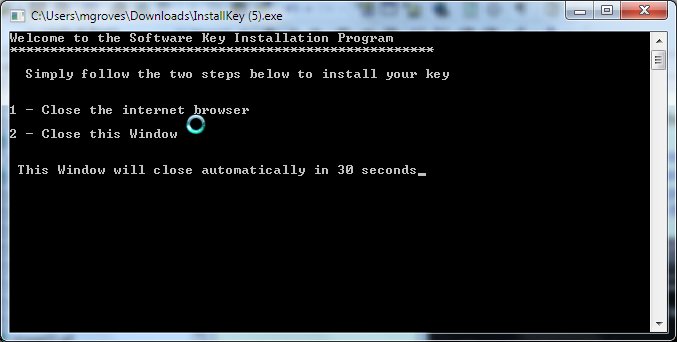 QH-10 Following the Directions to Complete the Instant Key Process
Now that you've completed the Instant Key process, this set of directions tells you exactly how to continue. Simply close your internet browser and also close the window shown in QH-10. You will then be looking at your QuickHorse window and QuickHorse will automatically install your new key to complete the Instant Key process. After that QuickHorse will automatically close. Simply click on the QuickHorse icon to open QuickHorse again. You may be required to enter your previously registered EMAIL ADDRESS and if so then enter that email address making sure it is the same one that existed before you made your subscription key purchase.
Also, once QuickHorse appears with the I AGREE page, check your subscription expiration date and that date should be 365 days from today's date or longer.
Copyright 2018 QuickReckoning.Com